Ever have one of those weeks where every time you turn around something ELSE goes wrong...and you just KNOW that its Satan's attack on you. I have been in a constant state of warfare all week. Ever since my appointment last week I have had one thing after another go wrong. One of my close friends came and stayed with me last weekend, it was an awesome visit...she is almost 6 months pregnant and even though I so loved having her here..and it was a blast seeing her....it was so hard to go look at all the baby stuff and know that she was looking "for real" and I was just dreaming....then I have been having nausea and all the intestinal issues all week from the metformin I started last Friday. Im giong to school and our spanish course is super accelerated and I literally feel like Im drowning, thankfully I was able to talk my friend into tutoring me. She has taught spanish for the past couple years at another university in town. She has a newborn son, I just LOVE that little boy. Him and his brother are pretty much amazing. I rocked him to sleep, and my friend made a comment that I was so good at that and I just started to bawl. I love her boys so much. I love babies. I just want one of my own so much. Her boys are definitely a blessing to me as I just need to have time with babies til I get one of my own...honestly hers(as of now other than my nephew) are the only babies I feel this way about. I have been on the verge of tears all week...I just know that it will be another month or longer if this cyst doesnt go away. I am really hoping it goes away...it has been hurting since last night so Im assuming it is getting ready to burst...thankfully its the beginning of my weekend so I dont have to skip any classes. It hurts so I pray that its going to burst soon....I had a spanish exam this morning, and I just know I bombed it....I feel like Im drowning in this. So my stress levels are through the roof. I scheduled a massage for tomorrow and as long as cyst waits to burst til Saturday lol I should be able to go. OH and then some girl decided to write a super nasty message to me on facebook...COMPLETELY uncalled for...It has some nasty language so if curse words bother you.....then dont read the following(I did mark out some of the letters)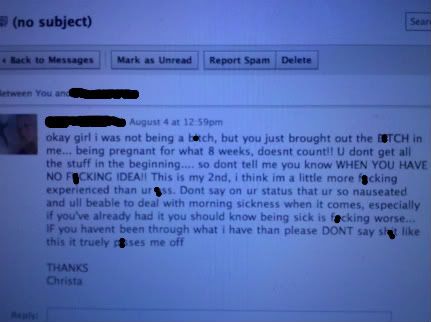 all because my status said : Downside to this med, constant nausea..upside to this med, getting ready for morning sickness.
Then she commented:
"Nausea and morning sickness are 2 diff things. I was nauseated with my son, but had horrible morning sickness with this one. I would rather have been nauseated than getting sick everday, cause id always get sick after i eat. Its even worse when u get sick while out to eat and others are in the restroom... i hate that the most. Im almost 30 weeks pregnant and i still get sick, not as often but i still do"
So I responded that I DID know, and to me driving down the road in bad traffic with no where to pull off puking in a bag while still driving was worse and I would rather puke in a restroom LOL....
I was totally trying to keep things light and she totally flipped out...needless to say I blocked her on facebook, reported her, and I ended up having to block her number on my phone because she kept harassing me through texts...it was quite the day. NOT what I needed or even could handle.
So with allll of this, this week has SUCKED...I have just been so down and had too many things happen that just sucks...I NEED SOME POSITIVE THINGS TO HAPPEN!!!